France
Montgomery Origins in Normandy, France
In recent years I have traced my ancestry to IRELAND. When my wife and I visited Ireland in 2019 and gathered church records toward establishing and documenting my genealogy, many Irish who we met made it a point to comment that I had a Scottish surname. Further researching of records has since led to me to expand my Montgomery family ancestry to SCOTLAND.
But the story doesn't stop there. It turns out my Montgomery line traces back from Scotland to FRANCE courtesy of the so-called Normandy invasion. Following is a story of personal discovery of my Montgomery origins that we made in Normandy, France in 2022, specifically in the historic village of St. Germaine-de-Montgommery. (See a scene from this lovely village below.)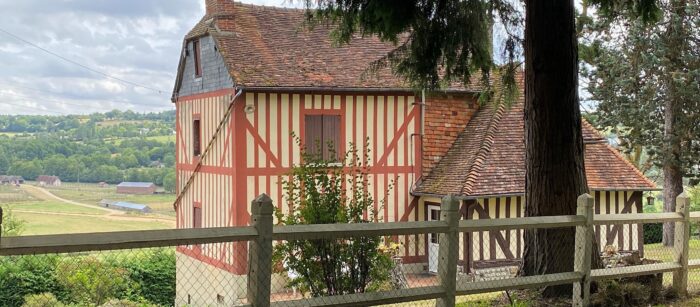 But first some general background: Normandy's name comes from the settlement of the territory by Vikings (or "Northmen") confirmed by treaty in the 10th century between King Charles III of France and the Viking jarl Rollo: As early as 841AD, a Viking fleet appeared at the mouth of the Seine, the principal route by which they entered this part of France. After attacking and destroying monasteries, including one at Jumièges, they took advantage of the power vacuum created by the disintegration of Charlemagne's empire to take northern France. The fiefdom of Normandy was created for the Viking leader Hrólfr, known in Medieval Latin as Rollo. The descendants of Rollo and his followers created an aristocracy that step by step adopted the local language, as well as intermarrying with the area's native Gallo-Frankish inhabitants, during which time they also adopted Christianity.
And now switching to the origins of the Montgomery clan, Scotland magazine states the belief that the Montgomery clan of Scotland originated with a Viking named Gomeric ((also referred to as "Gomerici", "Gumarick" and Gommeri), who was the brother of the aforementioned Hrólfr, otherwise known as Rollo. Gomeric settled on a hilltop estate in Normandy called "Mount Gomeric", or "Mont Gommeri", which eventually evolved into the Montgomery family name.
After driving to the village of St. Germaine-de-Montgommery in Normandy, and searching the area, and talking to locals (some of whom remembered hearing legends of tall, blonde, blue-eyed people living in the area), we came across this old French map which showed us how to find "Mont Gommeri":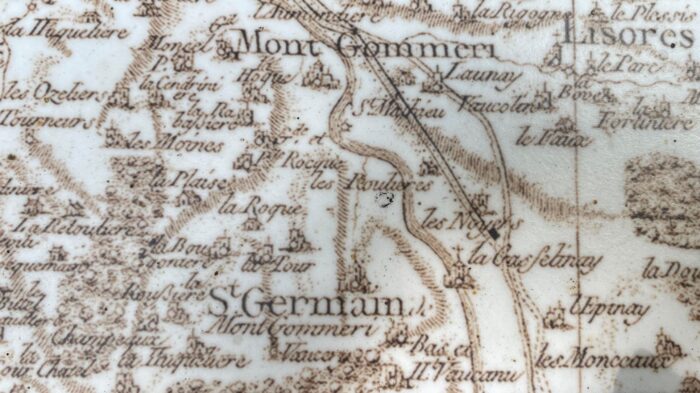 Behind me in the photo below is the place where we believe Gomeric built his fortress (c. 880 AD) on the highest point in the whole area we traveled.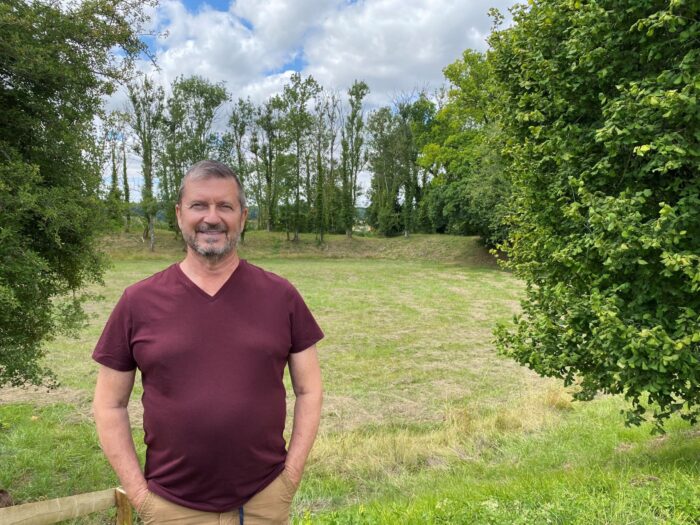 Below is a rendition of what it looked like, complete with a moat below at the base of the property. (BTW, the drawing below was done @ 950AD by a Montgomery ancestor, James Morton Montgomery.)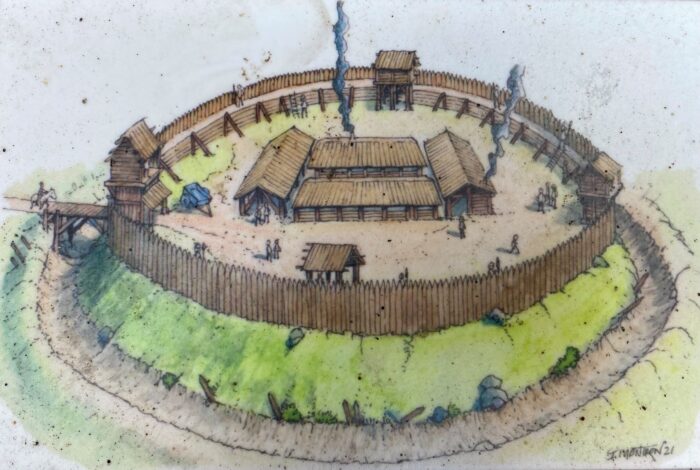 The above pictured "Mount Gomeric", or "Mont Gommeri" location turns out to be a short distance from where Count de Montgomery (offspring of Gomeric) had this property (below) in St-Germaine-de-Montgommery. (See "Comte" written on signs on the right, which is French for "Count".)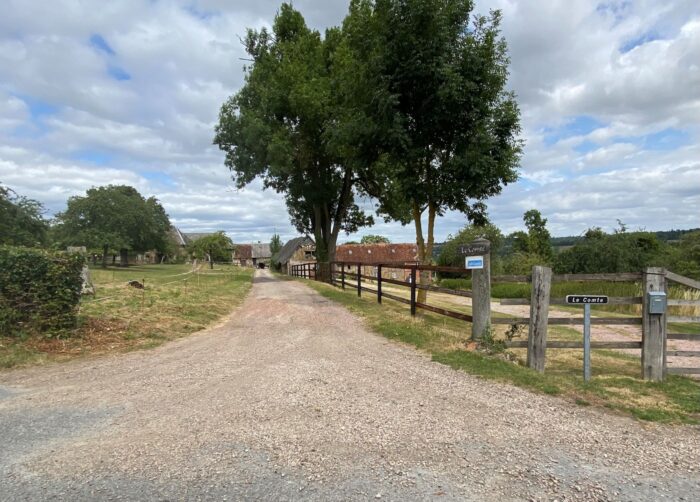 Allow me to now fast forward some years to a notable fellow in this line, Roger de Montgomery, born in 1022, who also lived in this property in St-Germaine-de-Montgommery. After the Norman Conquest of England in 1066, Roger de Montgomerie, this close confidante to William the Conqueror, arrived in England. and soon thereafter was given the titles of Earl of Chichester, Arundel and Shrewsbury. Roger ended up owning over 100 manors, plus most of Shropshire, and became so wealthy that he alone commanded 3 per cent of the country's entire GDP! Oh yes, and he also had a county in Wales (Montgomeryshire) named after him. (This Roger de Montgomerie is listed as one of the largest landholders in the Domesday Book, a survey conducted in 1086 under William the Conqueror.)
Sons and descendants of Roger de Montgomerie married women from royal and/or influential English, Irish and Welsh families, and so their Montgomery progeny date back to the 1100's in England, Wales and Ireland.
And just to make the France-to-Scotland connection: The name "Montgomery" was first recorded in Scotland in the 12th century. A grandson of Roger de Montgomerie (Robert) became the first of the family in Scotland, who along with two younger brothers, went north with Walter Fitzalan, the first High Steward of Scotland, in the reign of David I. In 1165, this Robert de Montgomery received a grant of the manor of Eaglesham in Renfrewshire, Scotland, which his descendants owned for seven centuries. (You can google "Montgomery Eaglesham Renfrewshire" for much more Scottish history should you be interested.)
In addition to imbibing all this history, we found it interesting indeed to be able to substantiate that a Viking named Gomeric is the one who fostered the Montgomery clan!